Contact
Student advice:
 
E-Mail
studienberatung@ims.uni-stuttgart.de
Link to International Service Point Fac. 5
 
 
 
 
Postal address:
Universität Stuttgart
Institut für Maschinelle Sprachverarbeitung
Pfaffenwaldring 5 b
D-70569 Stuttgart
Secretaries' offices:
Sabine Dieterle, M.A.
Experimental Phonetics
Theoretical Computational Linguistics

Room: 02.009

Phone
+49 (0) 711/685-81379
Fax
+49 (0) 711/685-81366
E-Mail
ims@ims.uni-stuttgart.de
Office hours
Monday
Wednesday
Thursday
morning
Friday
all day
Office hours
(for students)
Monday
Wednesday
Thursday
Friday
9:30-12:00
Tuesday
closed
 
Sybille Laderer
Foundations of
Computational Linguistics
Computational Linguistics
(Junior Professorship)

Room: 02.003

Phone
+49 (0) 711/685-81363
Fax
+49 (0) 711/685-81366
E-Mail
ims@ims.uni-stuttgart.de
Office hours
(for students)
Monday
Wednesday
13:30-15:30
Tuesday
Thursday
Friday
9:30-12:00
 
Barbara Schäfer
Project Office
Foundations of
Computational Linguistics
Theoretical Computational Linguistics

Room: 02.008

Phone
+49 (0) 711/685-81357
Fax
+49 (0) 711/685-81366
E-Mail
ims@ims.uni-stuttgart.de
Office hours
Monday
9:00-17:45
Tuesday
Thursday
Friday
9:00-13:00
Wednesday
closed
Office hours
(for students)
Monday
Wednesday
Thursday
Friday
9:00-12:00
 
Street maps, site plan
The IMS is situated in the Forschungszentrum Informatik (FZI) on the campus in Vaihingen.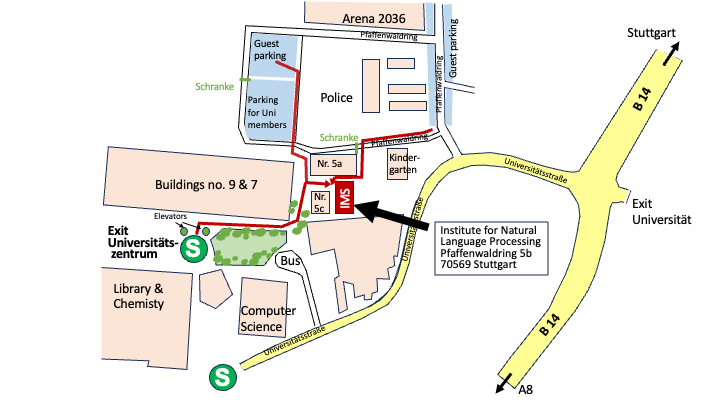 Public transportation
The IMS can be reached by public transport (S-Bahn) from the city center (lines S1, S2, S3; S-Bahn stop "Universität", 10 minutes from main station). Trains go every 10 minutes during the day, every 5 minutes during rush hour.
Timetable information
 If you get lost, you could also order a taxi by phone (0711/566061).