Welcome to the chair of Digital Phonetics at IMS, University of Stuttgart. The group is headed by Prof. Dr. Ngoc Thang Vu since June 2018.
Areas of Research
We conduct research in the following research areas:
Speech Understanding, e.g.

Automatic speech recognition
Interface between speech recognition and natural language understanding
Representation learning for words, phrases and utterances
Prosodic representations and prosody modeling

Encoding of higher-level information in speech, e.g.

Linguistics, e.g. Syntax, Information Structure
Paralinguistics, e.g. Emotion
Social and interactive aspects, e.g. Phonetic Convergence

Human Machine Interaction Systems via Language, e.g.

Spoken Dialogue Systems
Question Answering Systems
Department Digital Phonetics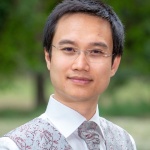 Prof. Dr.
Ngoc Thang Vu
Chair of Digital Phonetics, Endowed Chair of Carl-Zeiss-Stiftung
M.A.
Sabine Dieterle
Sekretariat Digitale Phonetik / Theoretische Computerlinguistik