Willkommen am Lehrstuhl für Digitale Phonetik am IMS der Universität Stuttgart. Die Gruppe wird seit Juni 2018 von Prof. Dr. Ngoc Thang Vu geleitet.
Forschungsbereiche
Wir forschen in den folgenden Forschungsbereichen:
Sprachverständnis, z.B.

Automatische Spracherkennung
Schnittstelle zwischen Spracherkennung und natürlichem Sprachverständnis
Repräsentationslernen für Wörter, Phrasen und Äußerungen
Prosodische Darstellungen und Prosodiemodellierung

Kodierung von übergeordneten Informationen in Sprache, z.B.

Linguistik, z.B. Syntax, Informationsstruktur
Paralinguistik, z.B. Emotion
Soziale und interaktive Aspekte, z.B. phonetische Konvergenz

Mensch-Maschine-Interaktionssysteme über Sprache, z.B.

Sprachdialogsysteme
Fragenbeantwortungssysteme
Projekte
Data-integrated Simulation of Human Perception and Cognition, Exellenzclustter SimTech PN6 - Machine Learning for Simulation (2019 - 2022)
Digital Phonetics (main focus: speech processing and dialog systems) funded by Carl-Zeiss-Stiftung (2018 - 2023)
1. Investigating the Interaction between Speech and Language Processing for Spoken Language Understanding: A Case Study for Sentiment Analysis (SFB 732 A8, 2016-2018)
Abteilung Digitale Phonetik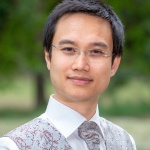 Prof. Dr.
Ngoc Thang Vu
Lehrstuhlinhaber Digitale Phonetik, Stiftungsprofessur der Carl-Zeiss-Stiftung
M.A.
Sabine Dieterle
Sekretariat Digitale Phonetik / Theoretische Computerlinguistik