These pages include all relevant information for exchange programs for students at the IMS.
Erasmus students who want to go abroad (Erasmus outgoing)
Erasmus students who want to visit the IMS (Erasmus incoming)
If you are interested in spending a year at the Institute of Natural Language Processing (IMS) as an Erasmus exchange student, you should apply through the Erasmus coordinators at your home university. They know whether your department has an exchange contract with the IMS, and what forms you have to fill in. Applications for the academic year starting in October should be received by June, preferably earlier. Applications for housing should be done earlier. Note that there will be an intensive German course in September which is highly recommended for all visiting students, since courses at B.Sc. level at the IMS are taught in German.
You can only apply at the IMS if the Institute of Natural Language Processing (IMS) has an Erasmus contract with your university. You can see a list of the current partner universities above in the Erasmus Outgoings section (Where can I study?) .
If you want to know about the contracts of other institutes of the University of Stuttgart, have a look at the web pages of the Office of International Affairs.
Further information and exchange programmes
If you are a student in Stuttgart and want to go abroad, try these pages for more information about the programs of the faculty or the university:
If you are an incoming student looking for more information, try these pages:
Advice on exchange programmes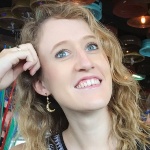 Sabrina Jenne
Substitute study program manager & student advisor
Substitute study program manager & student advisor, Erasmus Coordinator